On Boxing day, Chimi Dorji and Chencho took their family to Chimi Lakhang, to give thanks for the birth of their children. Chencho had visited the lakhang before becoming pregnant, and she takes the children at least once a year to give thanks.
We started as a family to visit the Paro dzong, but we had a little family drama, and in the end, Jeremy and I waited on the dramatic stairs of the dzong (Jeremy performing for me) while James and Zoë had a look around.
Then, because we wanted to stay an extra day and visit Chencho and her family at home, we struggled to find a hotel for one more night. This was a bit of a struggle, but we finally found a place with a single room, a little way out of town. James and I went on a short walk to visit Kyichu Lakhang, built on the same day as Kurjey lakhang in Bumthang (among 108 total), all a part of the same project of subduing a demoness causing trouble in Lhasa.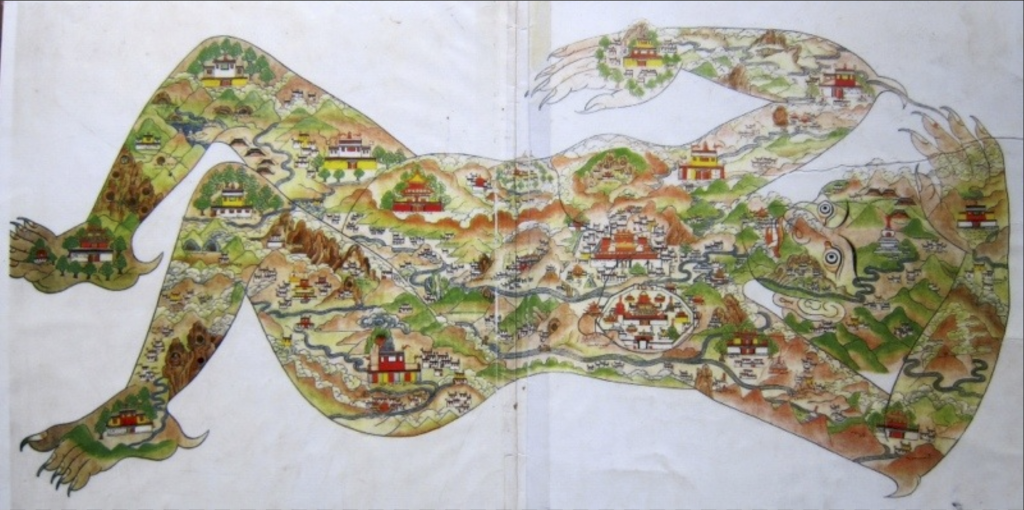 The hotel was a bit of a splurge for us, but it ended up being full of a conference of extroverted (read: loud) Bangladeshis, as well as a much quieter group of Bhutanese geologists. When we asked for an alternate room (we were sandwiched between two especially enthusiastic Bangladeshi groups), we were allowed to "borrow" the room of the head of the mining department. This was a large and elegant suite, though we only inhabited it briefly.
The next day, Chimi Dorji picked us up and gave us a ride to Chencho's family home.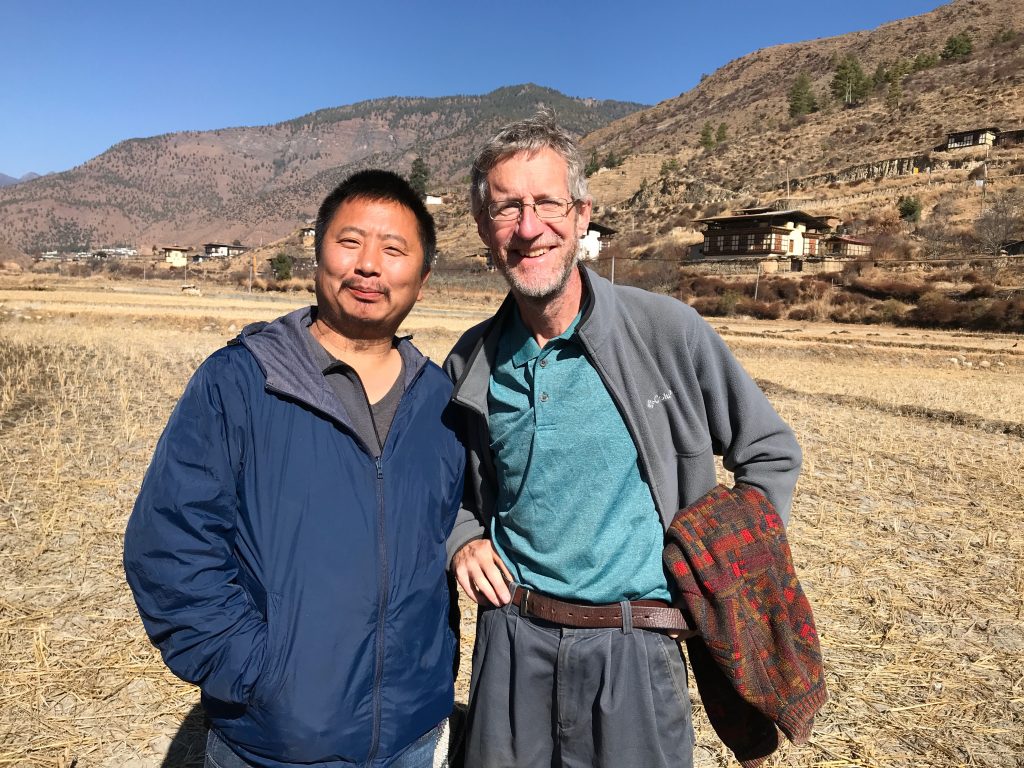 We walked across the fields from the river toward the house. The fields were dotted with small piles of compost (manure plus leaves) that Chencho and her sister had carried down from the house the day before (not visible in this photo, which has someone else's fields in the background). Soon, those piles would be plowed into the fields to add fertility. Carrying the manure is traditionally women's work; mechanized (or animal powered) plowing is traditionally men's work.
The ground floor of the house is still a storage area and a barn for the family cows.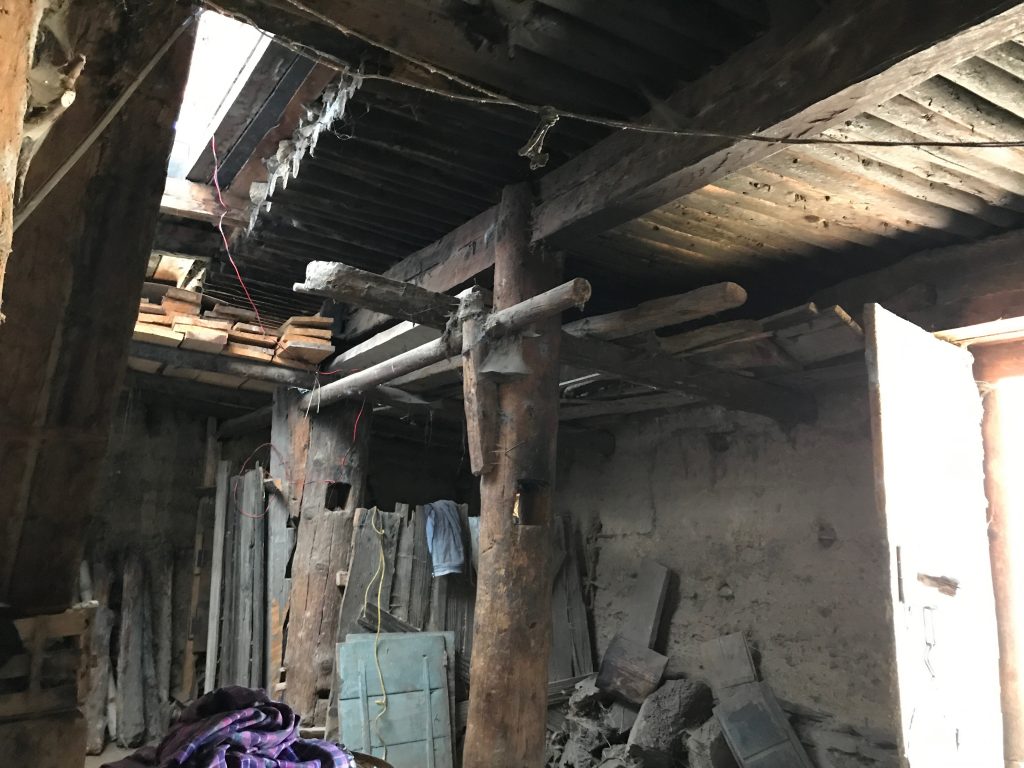 The stairs are a dugout log.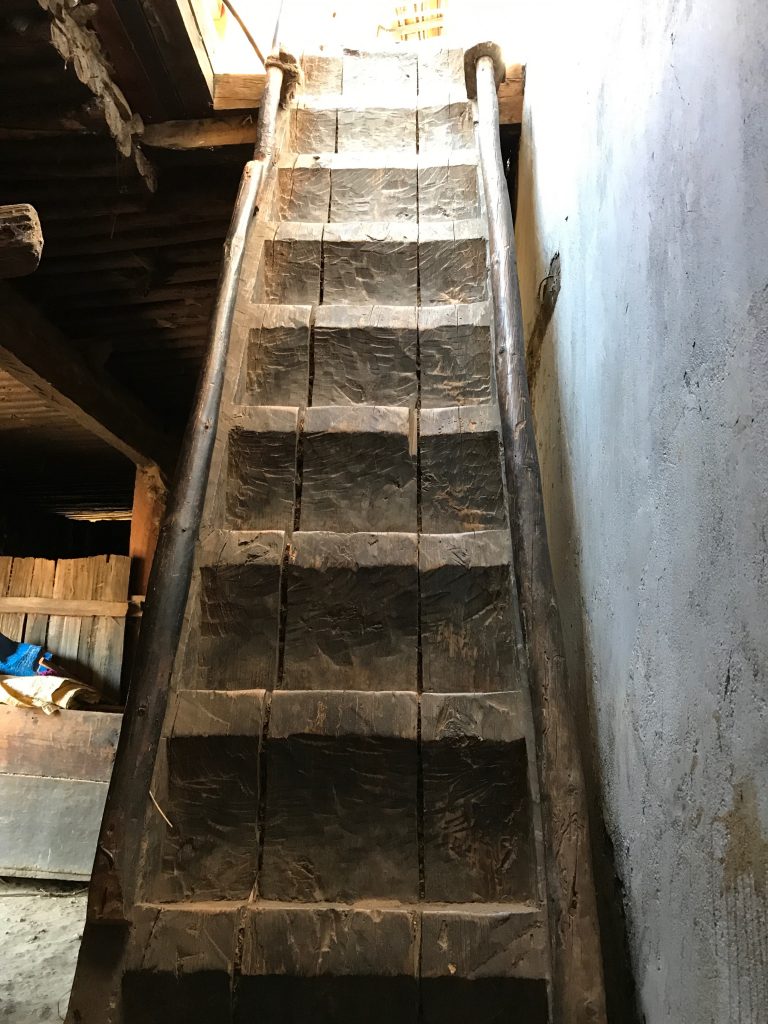 On the first floor (American 2nd floor) is a storeroom where rice and other grains are kept, along with baskets and champaca "flowers" for ritual use.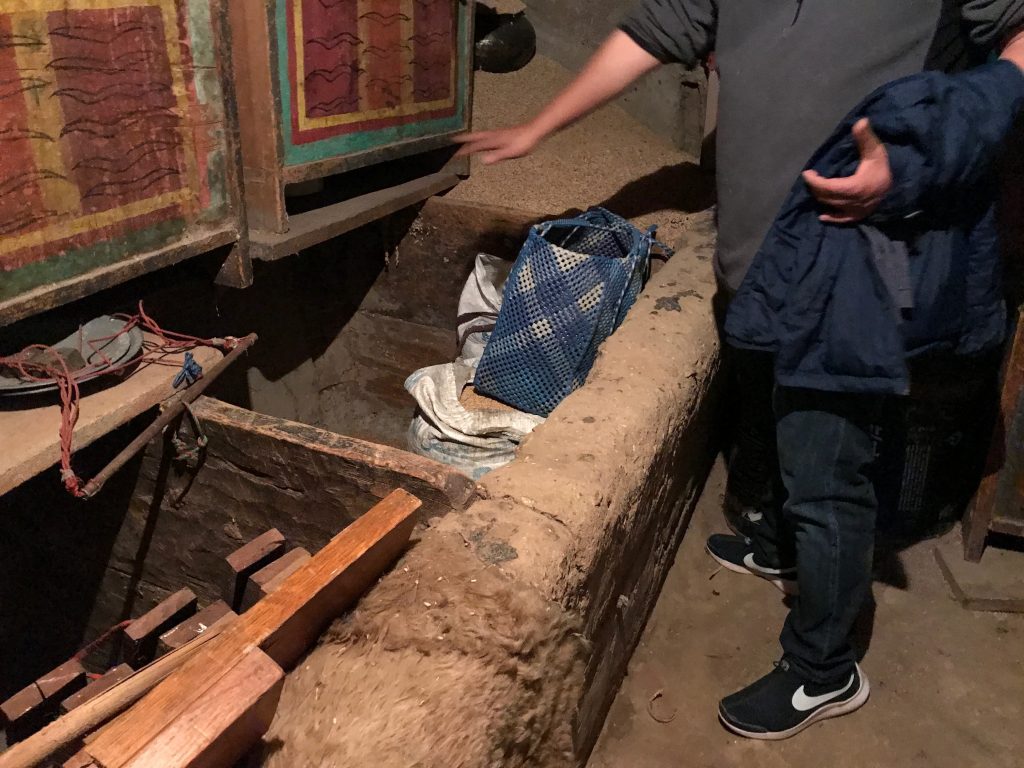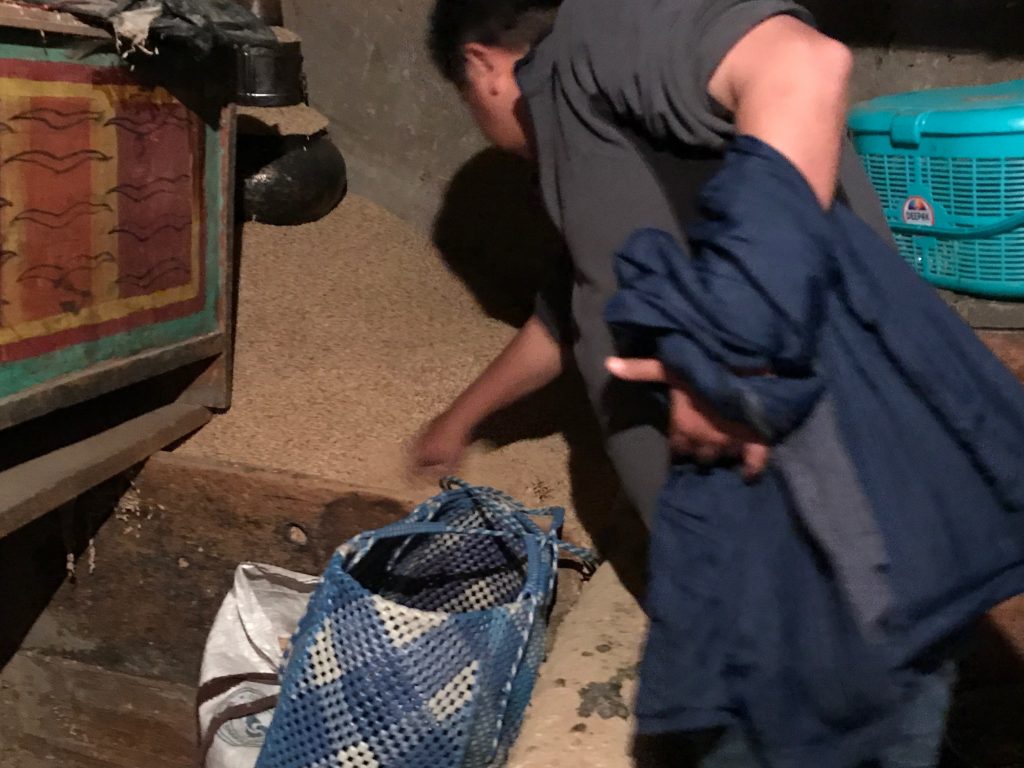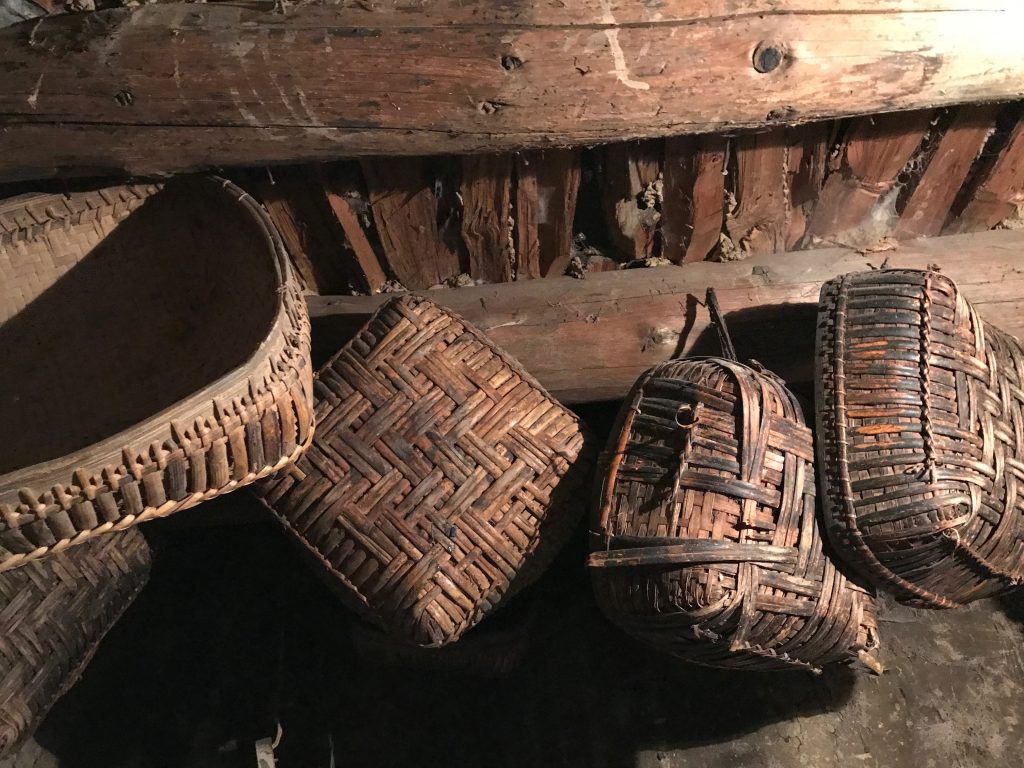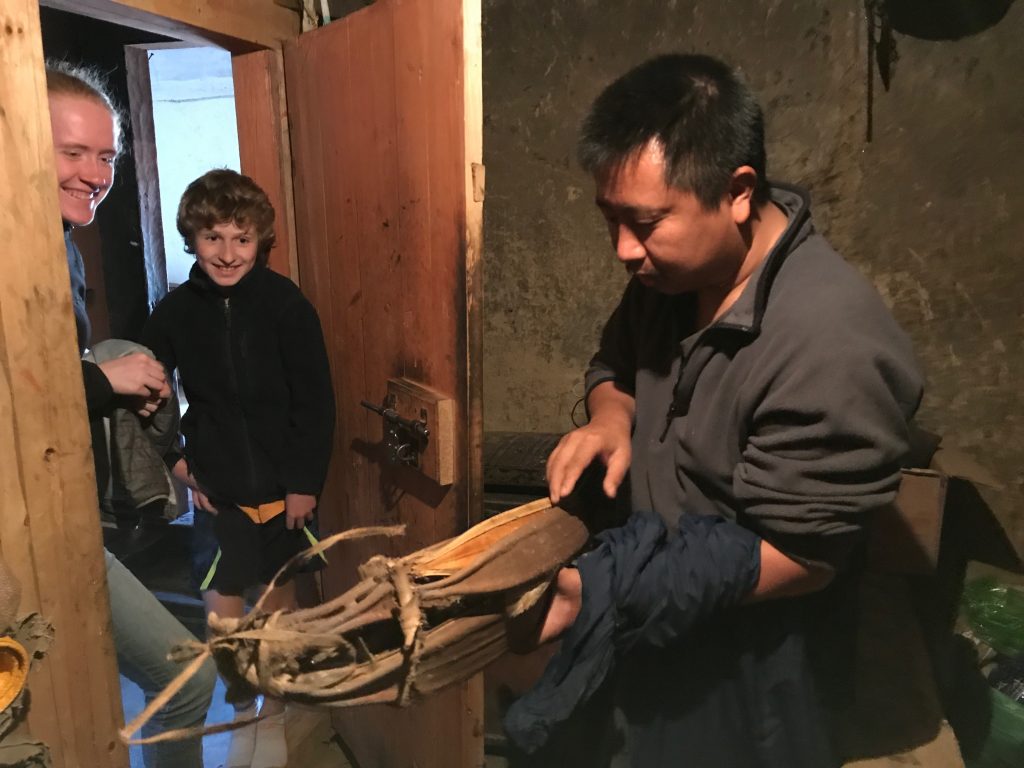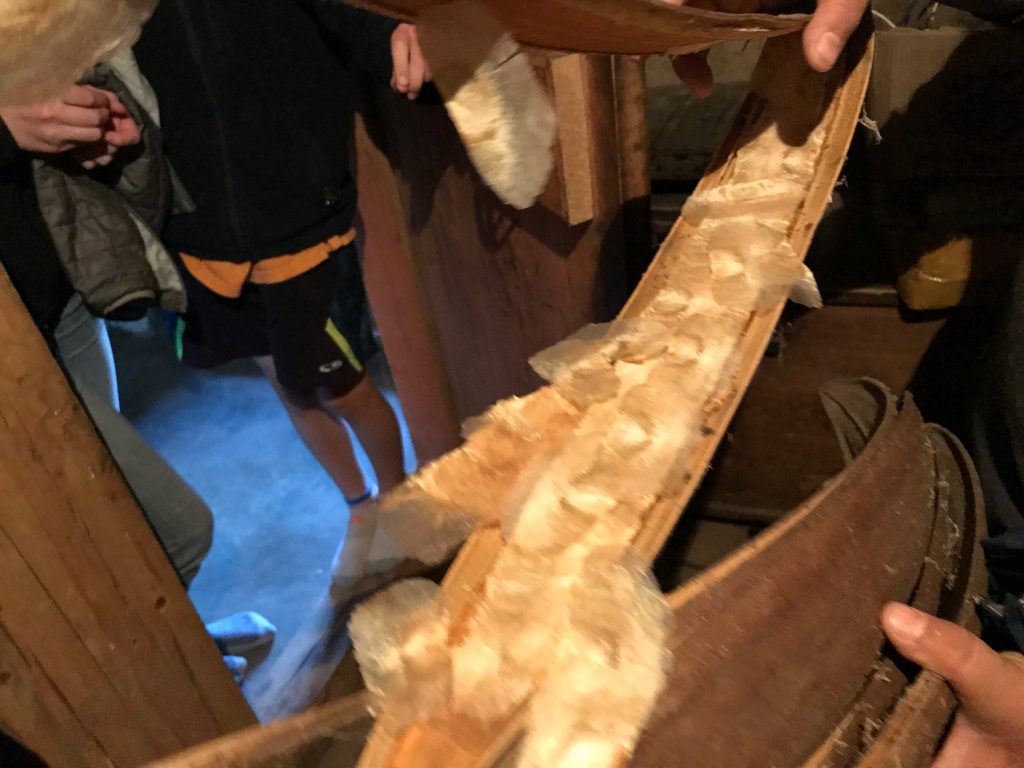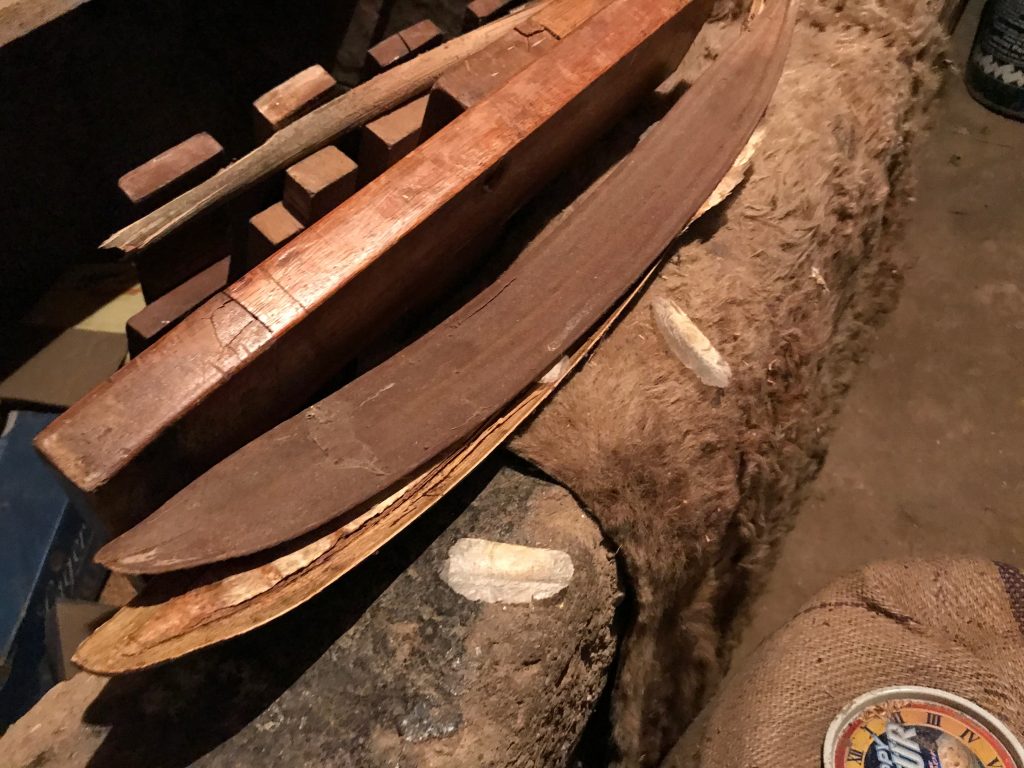 I was intrigued by this hole in a floor: you slide a pole down through as a lock on the door to the barn below.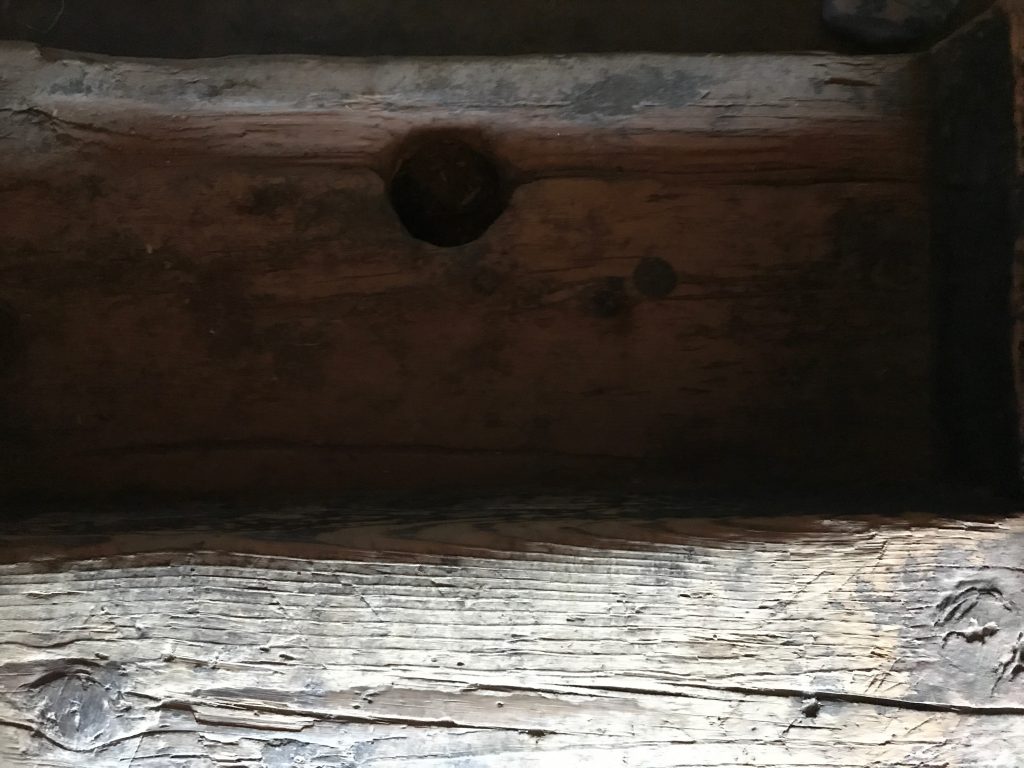 The 2nd floor (3rd US) holds the kitchen and living areas. The floorboards are impressively wide! Chencho's grandfather built the house himself.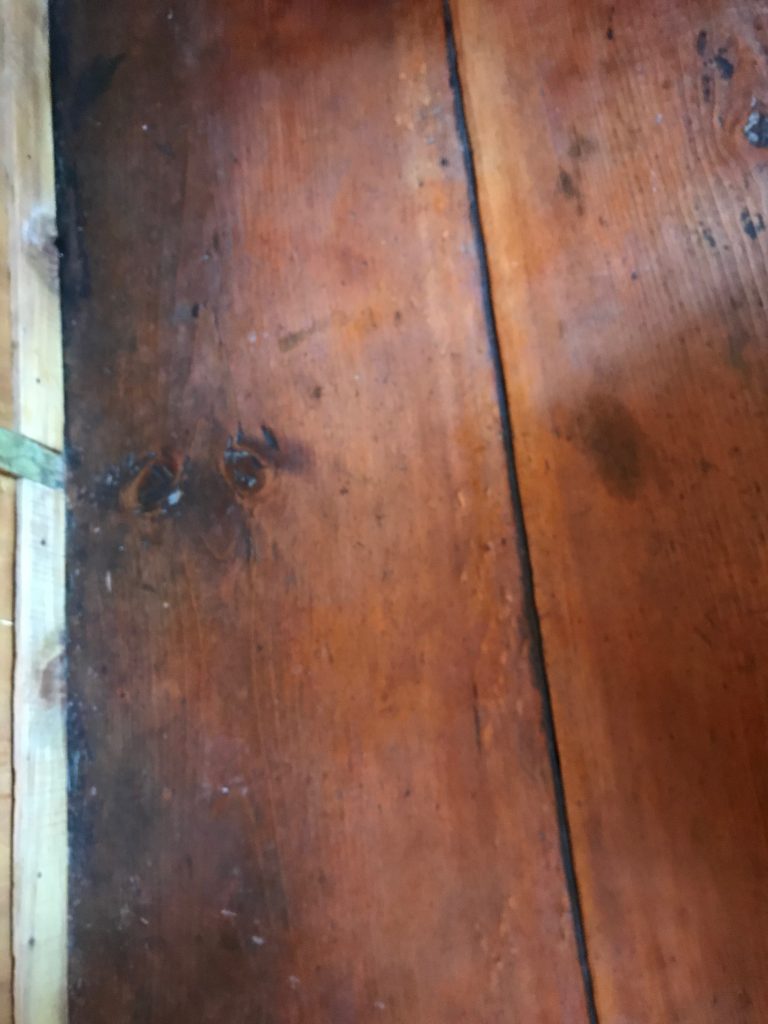 The center of the house is the altar room. I did not manage to capture it with any degree of elegance or fidelity, I'm afraid.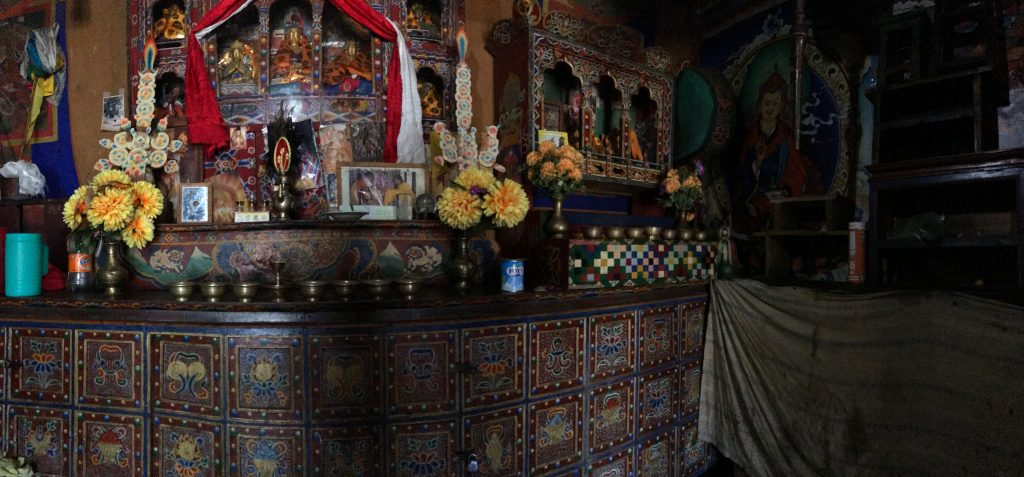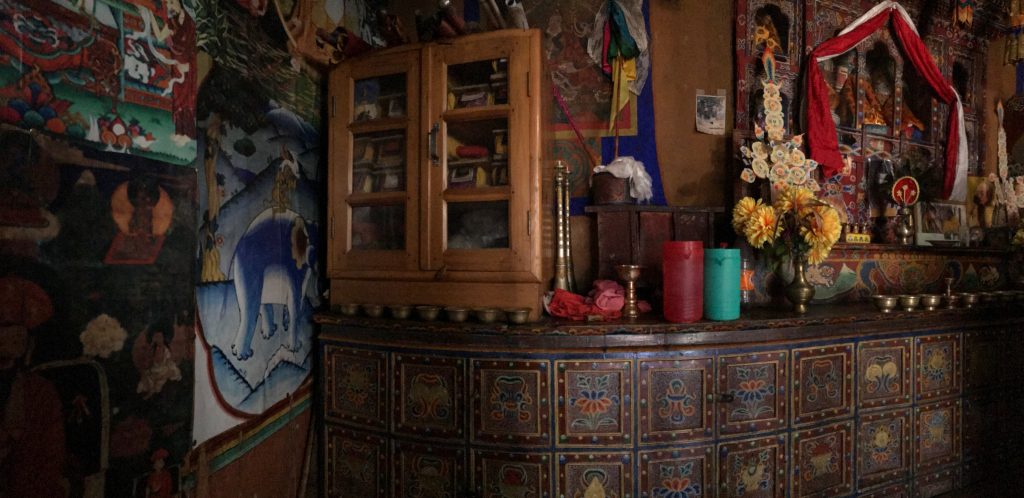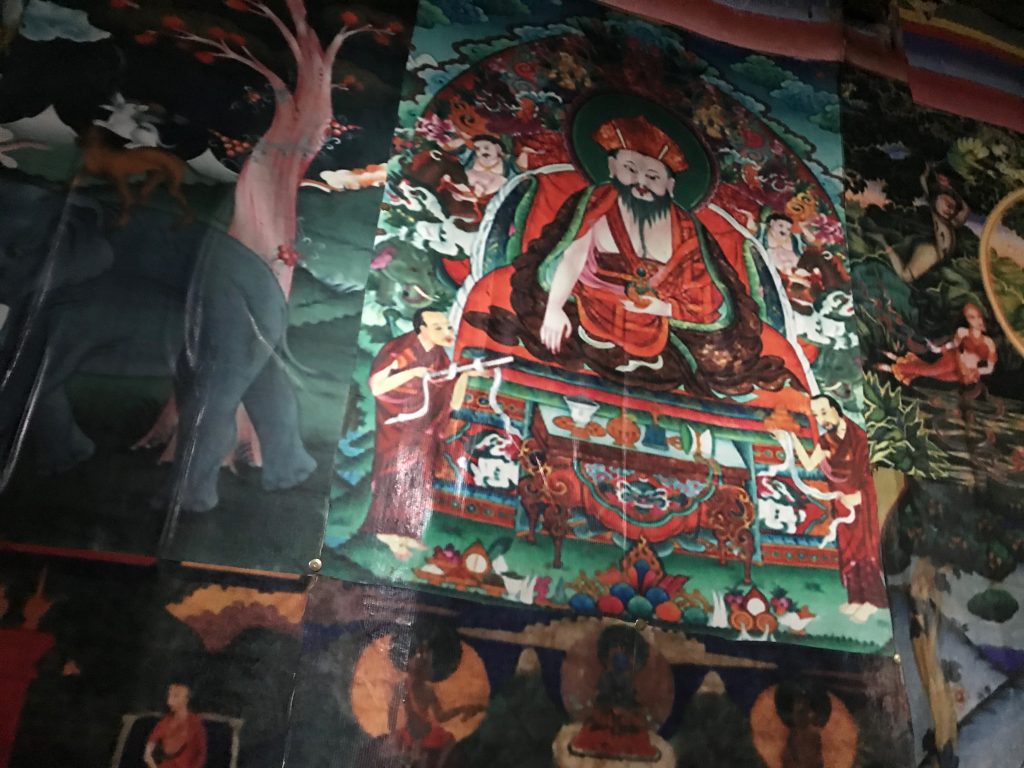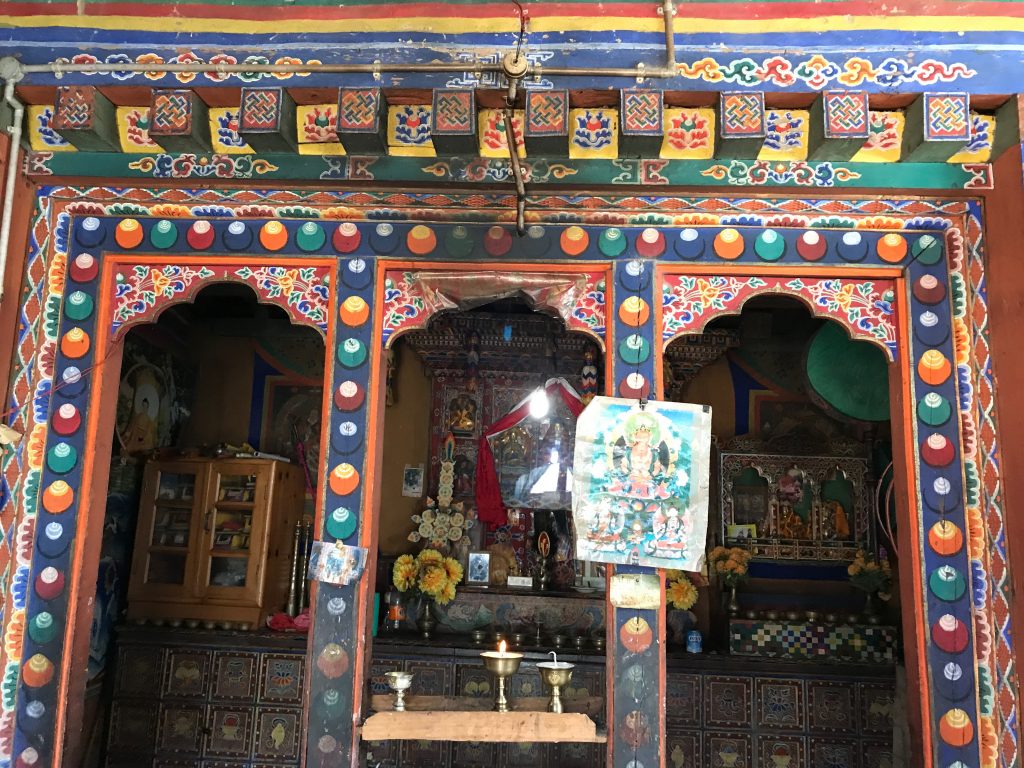 The views from the altar room are also lovely–I imagine even more so in the summer, with the fields of rice.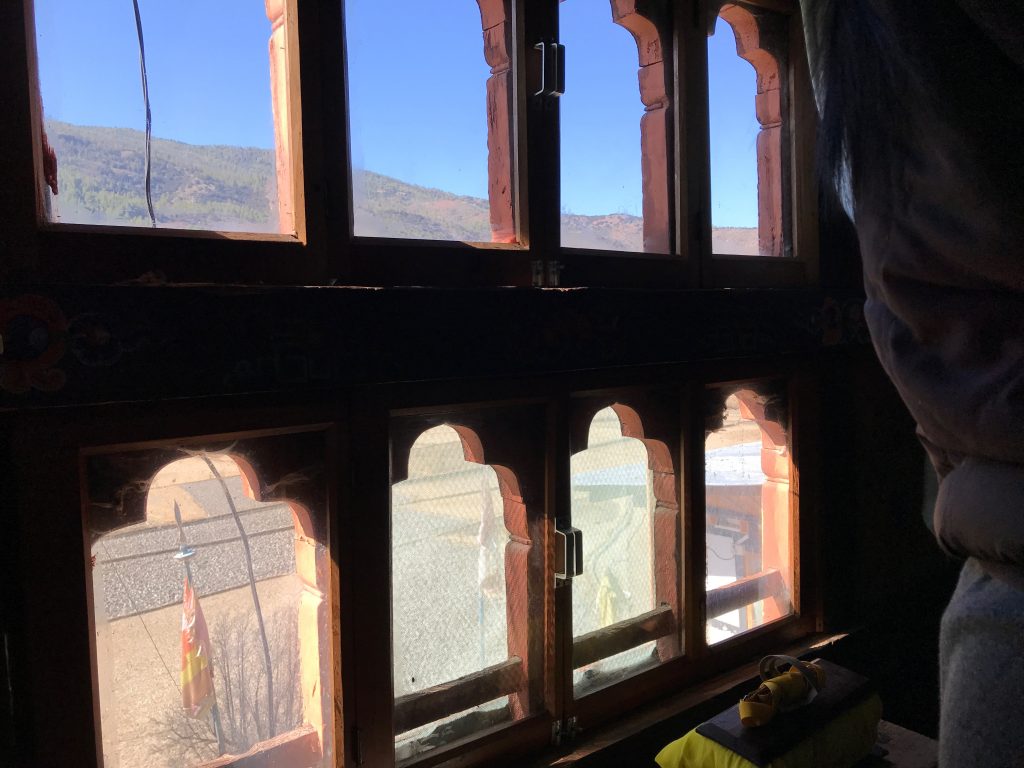 I was too shy to ask if I could take photos of her mother and grandfather–but perhaps someday Chencho will create a digital story about taking the cows up the mountain with her grandfather.
After a pasta lunch with Chencho's family, Chimi Dorji drove us back up to Thimphu–he was going to help out his mother, who was down sick. On the way, we saw a troupe of monkeys, including a nursing mother: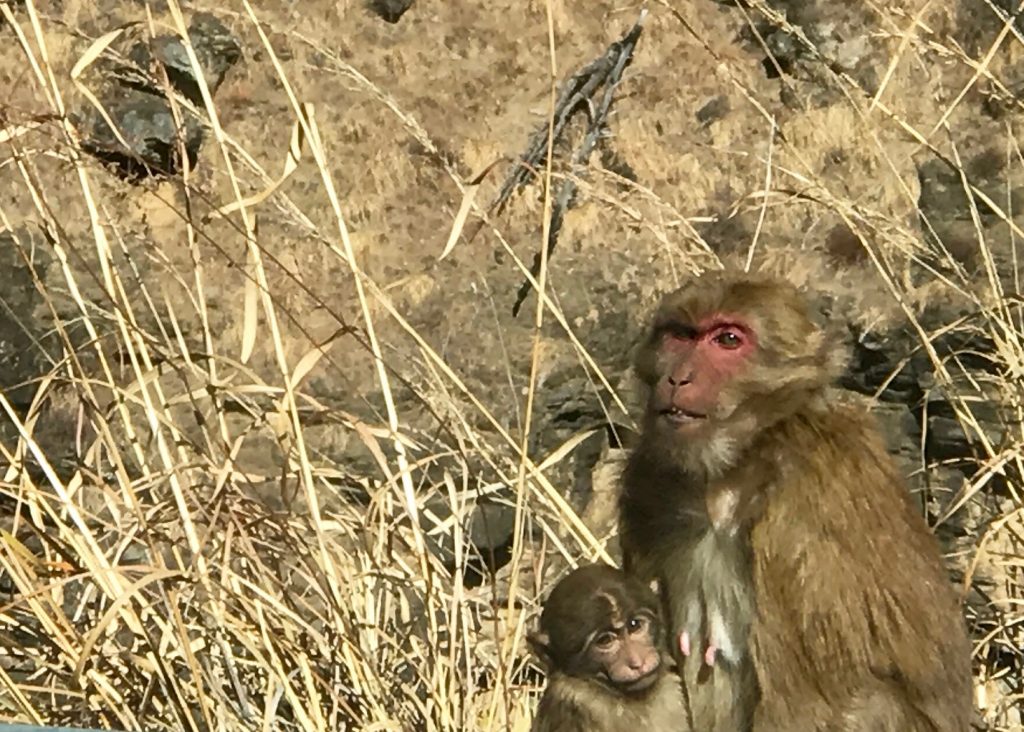 We also saw a forest fire, which made Chimi worry that his father (as a civil servant) would have been called out to fight the fire. Chimi was going to try to find his father and take his place.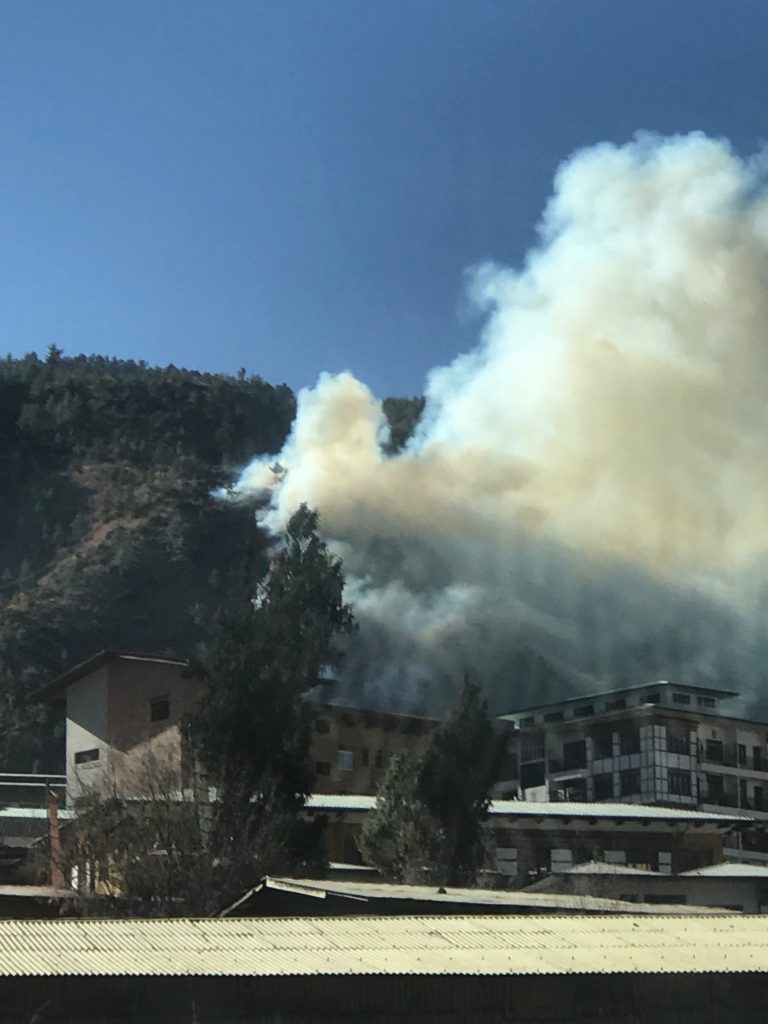 Back in Thimphu, Zoë fell ill–and felt worse as time went on. She was running a fever and had a mild sore throat. The rest of us met Jesse, Sarah, Ellie, Isaac, Levi at the Ambient. Jesse is a lecturer in Environmental Sciences at Royal Thimphu College; Sarah works as a volunteer counselor there and is also homeschooling their three children. Jeremy immediately hit it off with the boys in particular. Sarah is one of those people who knows everyone and everything, and she helped me get Zoë some antibiotics to combat what I was diagnosing as strep throat. (Please, I thought, lets avoid the post-streptococcal glamerial nephritis this time around.)
Here's the mandatory photo of the human stoplight in Thimphu. Really, I should show you a video to share the balletic effect: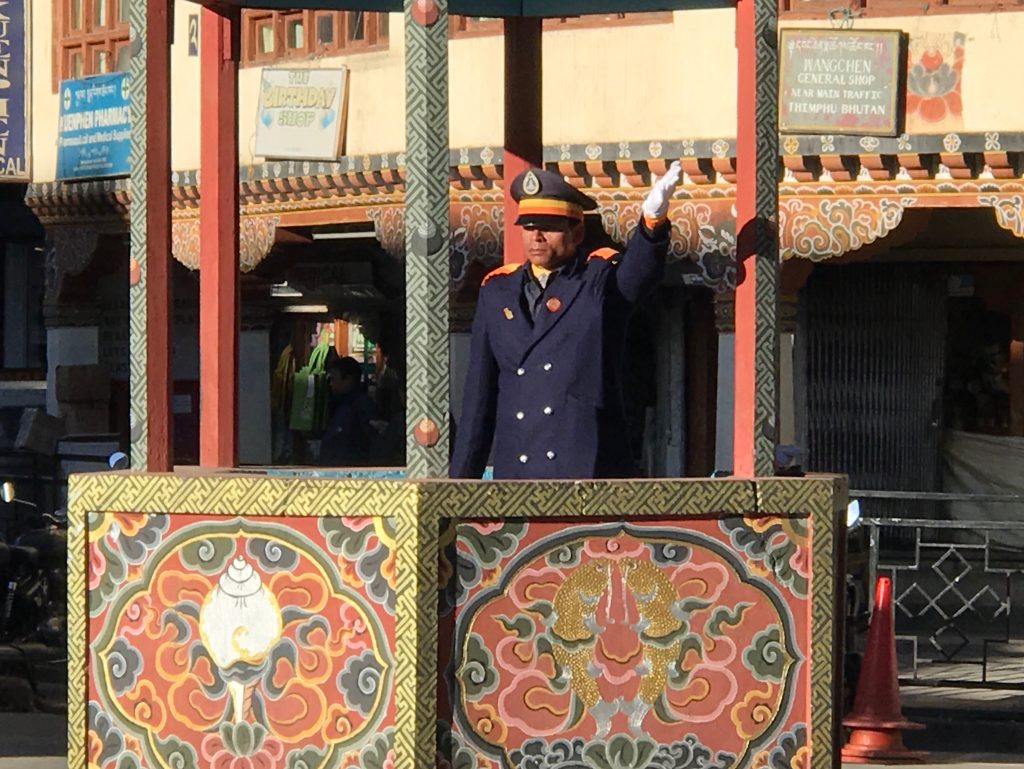 Our last night before leaving for Nepal, we spared a moment for nostalgia about the clocktower square and the surrounding mountains: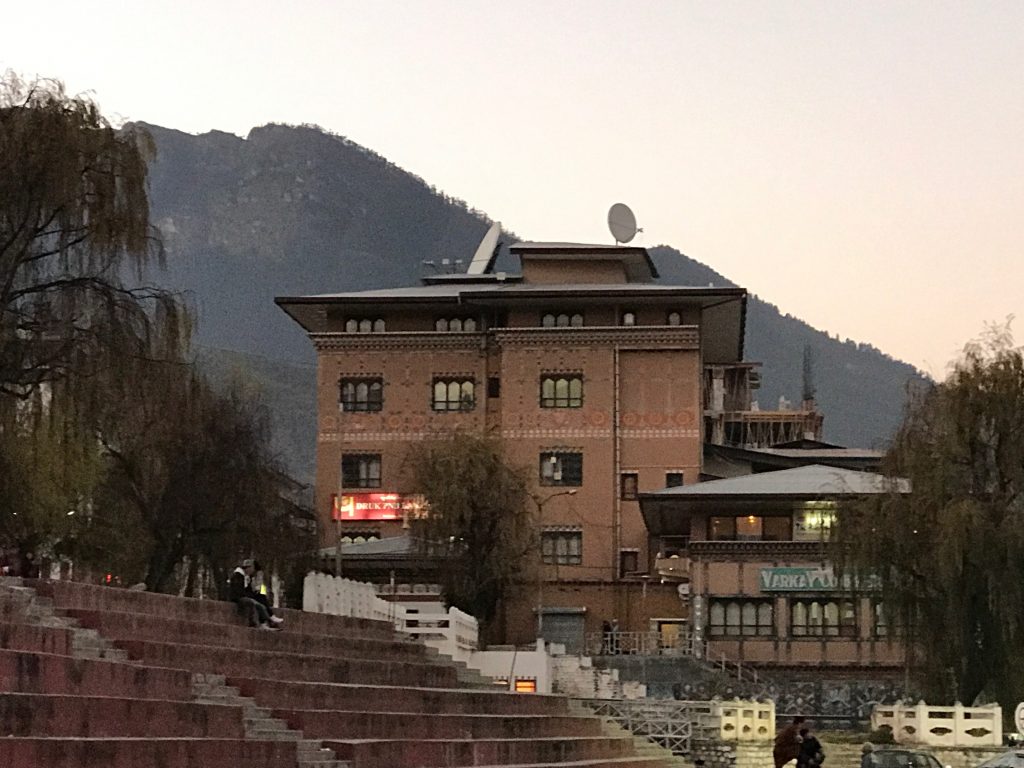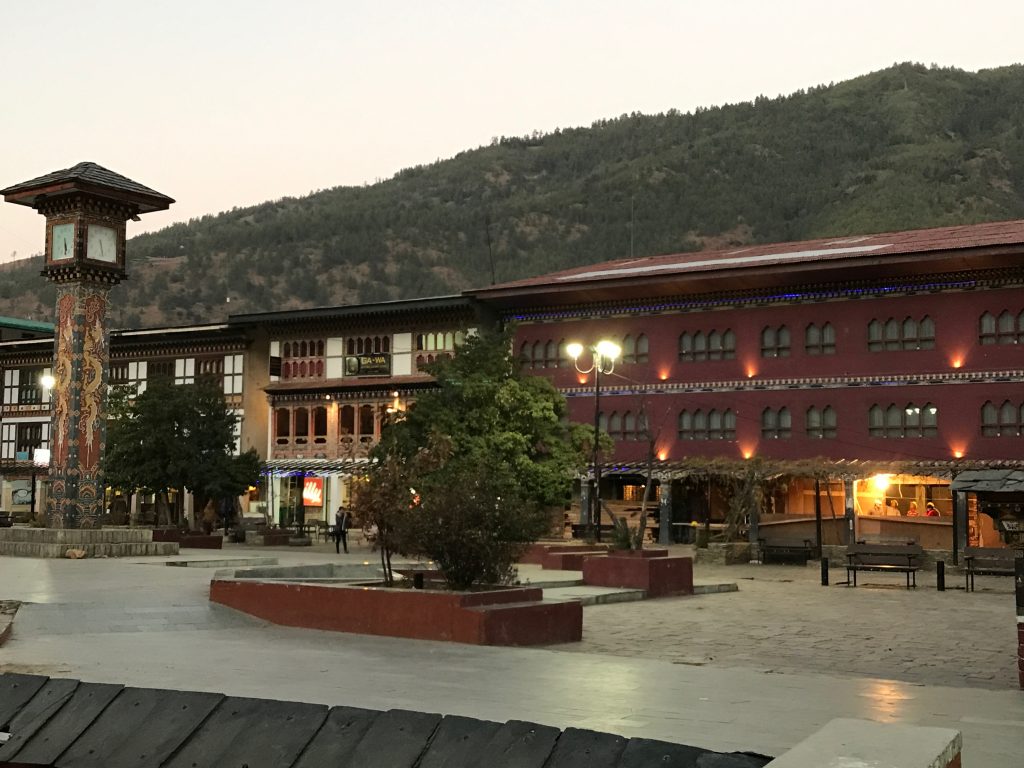 Then the next morning we were off to Nepal!